Cappy (Kalbi, in Japanese version) is the name given to the pet capybara that lives in the Den's lounge, first appearing in God Eater 2 and later in God Eater 2 Rage Burst as a Backup member after completing story rank 6. When first introduced, Cappy is unnamed and is of a small size. Over the course of the game, Cappy grows and by the finale of the God Eater 2, it is large enough to nearly fill its cage. Cappy wears a ribbon around its neck.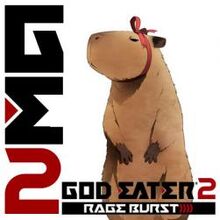 NORN Database
God Eater 2 Rage Burst
Cappy (?) (Named by Nana Kozuki)
A capybara that was discovered by chance during a mission, it was brought back to and raised in the Far East Branch. It mostly enjoys eating artificial veggies.
During the day when most people are off on missions, it roams free throughout the Lounge to keep in shape.
Although there are rumors that it is being kept on hand as emergency provisions, animals are valuable and treasured creatures, and its consumption is strictly prohibited.
Trivia
Cappy's voice clips are also available in the archive in-game (Rage Burst).
Cappy can also appear in camps (survival missions).
Community content is available under
CC-BY-SA
unless otherwise noted.