極めし一撃、神々を討つ. The Extreme Blow of Defeating the Gods.
God Eater 2 (ゴッドイーター2) is the sequel to God Eater Burst. It was released on November 14th, 2013 for both PS Vita and PSP. A direct sequel to God Eater 2 was announced as God Eater 2 Rage Burst at the 2014 TGS in Autumn.
While the original game was never localized, the sequel/expansion God Eater 2 Rage Burst, was announced by Bandai Namco for a western release in the summer of 2016 (August 30th).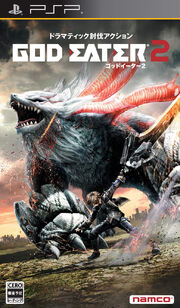 Story
The game takes place 3 years after the original.  A new fatal pandemic called the Black Plague, caused by red rain, has struck the Far East area. Members of Special Forces Blood, an affiliate of Fenrir who reside in a mobile base, are sent to assist. The player takes control of the new Protagonist (God Eater 2) who is a new recruit to Blood.
Gameplay
The game features 3 new weapon types, the Shotgun, the Boost Hammer, and the Charge Spear, as well as new mechanics, such as Blood Bullets and Blood Arts, as well as reworks for all the previously available Equipment types. New Aragami, new as well as returning Characters, and new Fields will accompany refined visuals.
New Characters
Special Forces Blood
Friar
Other God Eaters
Other Characters
Fran - An operator on Friar, in charge of assisting the Blood Unit.
Yuno Ashihara - An Idol from the autonomous settlement known as Nemus Diana who serves as the face of Fenrir's publicity campaign to rally support for the building of satellite bases.
Satsuki Takamine - Satsuki Takamine is a free journalist who is also Yuno Ashihara's idol manager. She comes from Nemos Diana along with Yuno.
Kate Lawry - The leader of the Glasgow Branch. 
Yoshino Kozuki - Mother of Nana Kozuki. She was declared MIA in year 2063.
Cypres - Cypres is a virtual idol that is in Fenrir God Arc Soldier Development commercials.
Damian Rodrigo - He is a retired God Eater.
Mutsumi Chikura - The Far East Lounge's polite, 9 year old chef.

Kunio Munakata

-
Jephthah Claudius - Jephthah Claudius is Dr. Rachel and Dr. Leah's father.
Returning Characters
Preorder Bonus
Preorder DLC NPC Costumes are making a comeback with the following NPCs:
Preorder DLC Fenrir starter costumes for the God Eater 2 Protagonist:
Preorder DLC weapons are also available via a purchase at participating chain outlets.
Quotes
Burst was the result of us taking in all the feedback we received from gamers about the original GE and trying to make the first game as complete a package as possible.
With GE2, we're trying to pinpoint what users found fun about the game; we're taking it apart and reassembling it from scratch.
The GE series is about high-speed action and a story that makes you the hero.
The way those two aspects combine is what I think makes the game appealing to users, and to start out, we're going to make both aspects stronger in GE2.
-Producer Yusuke Tomizawa, Famitsu Interview
Videos
Miscellaneous Gameplay Changes
In-battle character faces no longer make different faces possibly due to the new graphics revamp (like the exhausted stamina face or incapacitated face)-- this change is present in all currently released versions of God Eater 2 including the trial versions.
Related Links
Sources