In Fenrir, God Eaters are divided in units. In the Far East Branch, Units are named with ordinal numbers. There are three notable Units;
the 1st Unit (Retaliation Team), the 2nd Unit (Defense Team), and the 3rd Unit (whose original purpose is to defend Aegis Island, but most likely became a Research/Reserve Unit). There was also a 7th Unit mentioned but its members remain unknown as the unit itself only had a single mention during the course of the game (although it is heavily implied that the 7th Unit is actually just a cover for Lindow Amamiya when he goes to secret missions). Note: These ranks are those that appear after completion of the Burst story arc of God Eater Burst.
The members in each unit, along with their classes, God Eater types and weapons, are:
1st Unit (Retaliation Team)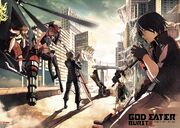 2nd Unit (Defense Team)
3rd Unit (Research/Reserve Team)
Unknown Unit
Others
Community content is available under
CC-BY-SA
unless otherwise noted.