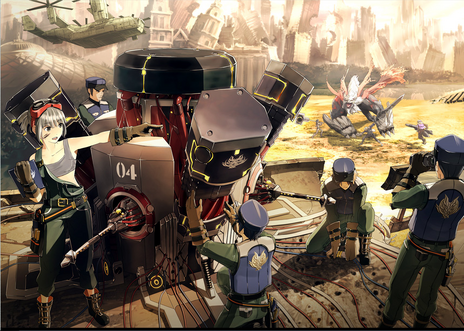 The Link Support System is an in-battle concept, which automatically applies the status effect when a certain condition meets, introduced in God Eater 2. The Link Support System uses God Arcs as the sources of power which are provided to characters on the field.
Effects and Use
To make use of the LSS, one has to have equipped the Link Support Devices of characters available for selection on the green box selection on the Mission member recruit screen. Link Support Device effects activate under certain conditions. Different Link Support Devices are craftable. The maximum capacity for Link Support Device cost cannot exceed 100.
LSS selected God Arc owners cannot be taken into battle due to their God Arc being used to provide effects to those in combat (as seen in the image).
When active, the Link Support System gives characters on the field certain effects depending on what effect a Link Support Device equipped has such as Full Burst Level 3 after five minutes past or Freeze Element Attack UP after 2 minutes. 
Note: Link Support System is a different system from the Power of Blood possessed by the Blood members.
The numbers next to the Link Supports name detail when the effect will be triggered. For example:
フルバースト 2 (Full Burst 2) - Has "2" next to its name, this means the effect will trigger after 2 minutes of mission time. It is the same for those with "5" (triggers after 5 minutes) and "10" (triggers after 10 minutes).
フルバースト 0,2 (Full Burst 0,2) - has "0,2" next to its name. this means the effect will trigger at the start of the mission and again after 2 minutes of mission time.
捕食時弾丸増 5~10 (Bullet Retrieval 5~10) - Has "5~10" next to its name, this means the effect will trigger after 5 minutes of mission time and will end after 10 minutes, ergo meaning the effect will last for 5 minutes.
Link Support terms
This table shows the translations and effects of certain Link Support Devices (this is still being updated)
| Japanese Name | English Name | Effect |
| --- | --- | --- |
| フルバースト | Full Burst | Induce Link Burst LV3 to all party members |
| 捕食時弾丸増 | Bullet Retrieval | Increase Aragami bullets received when devouring enemies. |
| 消費ST↓30% | ST Cost ↓ 30% | ST consumption is reduced by 30% |
| 破壊の一撃 | Destructive Blow | The first attack that hits the enemy will unbind parts instantly. |
| 被ダメ↓30% | Damage ↓ 30% | Any damage received will be reduced by 30% |
| 消費ST↓30% | ST Cost ↓ 30% | ST consumption is reduced by 30%. |
Additional Information
The ability to use Link Support is introduced by Licca Kusunoki during the course of the story.
The Link Support System was originally a project of Licca's father, but it got rejected due to the high cost of the needed materials.
More Devices will be craftable through progress in the main scenario and character episodes.
Players can select themselves as Link Support and still be in the party.
NPCs selected as Link Support cannot be added to the party.
Romeo's God Arc was too damaged to be used as a Link Support after his death by the Marduk's attack.
Julius' God Arc was left behind when he transformed into a premature nova making it still possible to use his God Arc for Link Support purposes.
Similar Link Support effects will stack as long as their active time overlaps with each other.
Link Support Characters
Name
Link Support
Effect
Cost
ジュリウス
Julius Visconti
フルバースト 2
Full Burst 2
Induce Link Burst LV3 to all party members after 2 minutes have elapsed.
20
ジュリウス
Julius Visconti
フルバースト 0,2
Full Burst 0,2
Induce Link Burst LV3 to all party members at the beginning, and then again after 2 minutes have elapsed.

※ Received after completing the story.

30
香月ナナ
Nana Kazuki
捕食時弾丸増 5~10
Bullet Retrieval 5~10
After 5 minutes have elapsed, increase Aragami bullets received when devouring enemies. 5 minutes duration.
60
ロミオ・レオーニ
Romeo Leoni
消費ST↓30% 2~5
ST Cost ↓ 30% 2~5
After 2 minutes have elapsed, ST consumption is reduced by 30%. 3 minutes duration.
30
ギルバート
Gilbert McLane
破壊の一撃 5~10
Destructive Blow 5~10
After 5 minutes have elapsed, the first attack that hits the enemy will unbind all parts instantly.after 4 minutes elapsed
40
シエル・アランソン
Ciel Alencon
被ダメ↓30% 2~5
Damage ↓ 30% 2~5
After 2 minutes have elapsed, any damage received will be reduced by 30%. 3 minutes duration.
30

リヴィ・コレット

BR挑戦延長 2~5

BR Challenge Extent 2~5

Give extra time to complete Blood Rage challenges.
??
藤木コウタ
Kota Fujiki
被ダメ↓30% 2~5
Damage ↓ 30% 2~5
After 2 minutes have elapsed, any damage received will be reduced by 30%. 3 minutes duration.
30
エミール
Emil von Strassberg
消費ST↓30% 0~2
ST Cost ↓ 30% 0~2
At the start of the mission, ST consumption is reduced by 30%. 2 minutes duration.
30
エリナ
Erina der Vogelweid
移動速↑20% 0~2
Move Speed ↑ 20% 0~2
At the start of the mission, movement speed is increased by 20%. 2 minutes duration.
30
キグルミ
Kigurumi
(Player's Link Support)
※ Kigurumi is always equipped with the same Link Support Device as the player.
(Same)
真壁ハルオミ
Haruomi
破壊活性封じ 2~5
Secured Disturbance 2~5
After 2 minutes have elapsed, increase the chance of knocking down the enemy. 3 minutes duration.
20
台場カノン
Kanon Daiba
破壊の一撃 2~5
Destructive Blow 2~5
After 2 minutes have elapsed, the first attack that hits the enemy will unbind all parts instantly.after 7 minutes elapsed
40
リンドウ
Lindow Amamiya
怯み↑30% 5~10
Flinch ↑ 30% 5~10
After 5 minutes have elapsed, increase the chance of staggering the enemy by 30%. 5 minutes duration.
40
ソーマ
Soma Schicksal
破壊↑30% 2~5
Destruction ↑ 30% 2~5
After 2 minutes have elapsed, increase the efficiency of unbinding parts by 30%. 3 minutes duration.
40
アリサ
Alisa Amiella
フルバースト 5
Full Burst 5
Induce Link Burst LV3 to all party members after 5 minutes have elapsed.
20
大森タツミ
Tatsumi O'Mori
登場遅延60秒 5~10
Appearance Delay 60 sec. 5~10
Delays Aragami's time from invading the field by 1 minutes after 5 minutes have elapsed.
20
ブレンダン
Brendan Bardell
消費ST↓30% 5~10
ST Consumption↓30% 5~10
Cuts ST consumption of all members by 30% for 5 minutes after 5 minutes have elapsed.
30
小川シュン
Shun Ogawa
黄泉返り 5~10
Underworld Return 5~10
All members can be revived once after 5 minutes have elapsed.
20
カレル
Karel Schneider
身代わり盾 5~10
Sacrificial Shield 5~10
All members can invalidate a damage once after 5 minutes have elapsed.
20
ジーナ
Gina Dickinson
視覚↓30% 5~10
Vision↓30% 5~10
Cuts Aragami's vision by 30%, making it difficult to be discovered for 5 minutes after 5 minutes have elapsed.
20
リヴィ
Livie Collete
BR挑戦延長 2~5
BR Challenge Extension 2~5
Extends blood rage vow challenge time by 15 seconds after 2 minutes have elapsed (3-minute duration).
30
ダミアン
Damian
ホールド付与 0.5
Grant Hold 0.5
After 30 seconds have elapsed, inflicts Hold status effect on all Aragami within the area.
50
リンドウ/浸食
Lindow / Corrosive
不活化30% 0~2
Inactivated 30% 0~2
Cuts the odds of Aragami's activation by 30% from the start of the mission (2 minute duration).
20