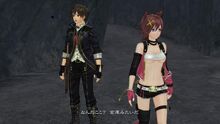 Tales of Zestiria is a Japanese RPG for the Playstation 3, Playstation 4, and PC. It is the fifteenth mothership title (main series game) in the Tales series. It was released on January 22, 2015 in Japan, with a western release on October 16th (EU) and October 20th (NA).
In the free collaboration DLC with the God Eater franchise, Julius Visconti's outfit, including hairstyle, is available for the main protagonist (Sorey) to wear, while the characters Rose and Alisha can wear Nana Kouzuki's outfit hairstyle to match, however Alisha cannot equip Nana's hair style. Julius' and Nana's God Arc bracelets are available for all characters to wear as accessories. Additionally, equipping Julius' outfit changes the battle music to God Arc Soldier Vault 2 from God Eater 2, and the victory results music to the mission results music from the GE series as a whole, and equipping Nana's outfit on Rose without Sorey wearing Julius' outfit will change the battle music to Wings of Tomorrow.
Additionally, a feature called Aragami Hunt is added: players can examine orbs emblazoned with the Fenrir insignia at inns to enter into a sequential battle against multiple waves of Aragami, including Ogretails, Chi-Yous, and Vajras. Be warned, however, that these enemies are all extremely strong and should not be attempted until the player is sufficiently high-level.
Links: